In March of this year, we found out we were expecting baby number two — a sweet baby boy! We went for a routine check up in August and brought our 2 year old daughter, Fenley, with us. We wanted her to make a connection with her new little brother, Wills. The sonogram tech took a lot longer than normal — we could feel something was up. Walt took Fenley to go get a donut we had promised her for being good. When the ultrasound pictures were done, the doctor came in the room and took me to his office. Little did I know our world as we knew it was about to be turned upside down.
I was sitting in front of the doctor, with blurred vision and heart pounding, hearing him say our baby boy had four "markers" for a chromosomal abnormality. All I could do was text Walt, "Come back." He walked in with tears in his eyes and Fenley in his arms, and we were told we needed to see a specialist for further testing.
We prayed the "markers" were just coincidence and questioned whether we would be strong enough to handle a very serious and most often fatal diagnosis. That was the longest weekend of our life as we waited to see a specialist, but it also became one of the sweetest times with The Lord as He opened our eyes and revealed Himself to us. Days later, we were given our greatest fear — our little boy had Trisomy 18. Most babies who are diagnosed with this are stillborn — especially boys. How do you deal with that?
We had a lot of doctors' appointments, and with each one there was never good news. I wondered what to do. Do you start the nursery? Do you have a baby shower? Will we have a quiet delivery room? Walking out pregnancy with a fatal diagnosis is extremely heavy. But God showed up so tenderly for us. He showered us with unfailing love and started teaching us how to trust Him and love each other more. It turned into an extremely sweet season because of God's nearness.
Each day, God showed us He was enough."
Our small group became family to us, Jeff Redding spoke remarkable truth to our aching hearts, and we realized how present and big God is. One of our main prayers since the diagnosis was that we wouldn't have a quiet delivery room, and God answered that prayer. Wills was fighting for a breath, but that first cry was the sweetest sound. We felt overjoyed in The Lord with that answered prayer. It was and still is such a treasure to us.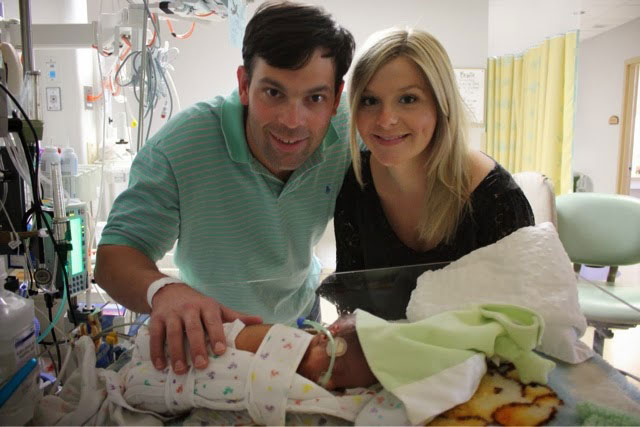 Every day felt like it may be Wills' last day with us so we celebrated each "birth day." And we got the most marvelous 15 "birth days" with our son. We had him at home for 10 of them which was so special. We got to have his baby dedication in our backyard. In those 15 days, God changed our lives forever. He gave us sureness of salvation, healed our hurting marriage and lit a new fire for His story in our hearts. It seems unimaginable that a child with a tired and sick body could affect peoples' lives as much as he did. We prayed for his life to make an impact for eternity — it did. God allowed, and is still allowing, us to see people who have told us his life has changed theirs. We are so proud of him. We realize it is not the number of days you have here but what you do with them. Through Wills, God has taught us to seek and trust Him, ask for what you need, and expect The Lord to show up — then rejoice when He does!
— Walt and Lauren Bowie, Pinelake Madison