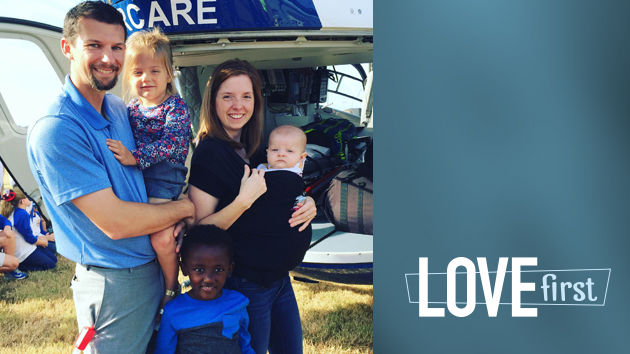 When God's call came to adopt internationally, we lived on one income in a one-bedroom apartment. Obviously, that proved to be a major hurdle when we tried to begin the paperwork process with two adoption agencies. It was tough for us. We knew God had laid adoption on our hearts, yet everywhere we turned we were told no: We didn't have enough room, enough money, enough net worth.


Really, that's been true for the whole process. We've faced so many roadblocks that discouraged us. But when God says, "Yes," nothing can stand in the way. You just have to wait for His perfect timing.


His "yes" started when we found a foreclosed home. Once we bought it, the equity in it was almost exactly what we needed for our net worth to be deemed sufficient by the agency. We also didn't have the $30,000–40,000 we'd need to pay for the process in our savings account. Not many people do. But there again, God made a way one step at a time.


As we rushed around getting our federal documents notarized and our fingerprints and background checks, God provided. When we had to make a payment, the money was always there. Sometimes, we'd find it in our mailbox the very day before we needed it. Another time, family members gathered all the money lying around in their house to help. Pinelake provided a grant as part of the Outlive Your Life initiative and friends pitched in a little at a time. Every single dollar brought us closer to adoption. Not only that, all these people prayed for us as well, and we knew we weren't alone.


Still, the waiting never got easy. We knew we were supposed to adopt from Ethiopia, home to over five million orphans. So, we knew there would be a child waiting for a mom and dad, but it took two and a half years before we received our referral. During the waiting, though, we fell victim to worry, doubt and impatience, and God had to bring us back to His calling on our lives. He helped us see that His timing is perfect.
We knew we were supposed to adopt from Ethiopia, home to over five million orphans.
Then, we had our referral: a three-year-old boy. But international adoption isn't a quick process even after the referral — with at least two trips overseas to factor in. Days turned to weeks; weeks turned into eleven months. We had a picture of this boy who was ours, but we could do nothing about it. We couldn't hold him or play with him. We wanted so bad to see him, but we couldn't. During that time period we had documents expire, policy changes within our agency and personnel changes as well. Things that we had finally grown comfortable with were taken away. But God continued to faithfully guide us.
Our agency called us on July 12 to let us know we had to be in Ethiopia by July 22. We'd been waiting years for this moment, and now we had a little over a week to plan for such a major trip. On the 13-hour trip from Washington, D.C., to Addis Ababa, Ethiopia, the one thing you don't want to happen happened: The airline lost some of our luggage. Not just any piece, but the bag we'd brought that had everything in it we planned to give to our son so that he could remember us between trips. After that, we had to wait in line three hours to get our visa. It was overwhelming.


When we left the airport, we were thrown into completely unfamiliar territory — bombarded with new smells, surrounded by a beautiful and very different culture, language and way of life. The lack of sleep and jet lag took a toll on us, and when we found out we'd see our son that day, we experienced a roller coaster of emotions.


Things that we had finally grown comfortable with were taken away. But God continued to faithfully guide us.
When we met our son, the first few minutes were filled with silence as we just watched him. We were looking at a fully capable little boy, but we had no way to communicate with him. He tried to figure us out, and we were enamored with him. Right then, we broke the silence by dropping a simple soccer ball and kicking it around. His personality jumped out, and he opened up to us. The bond that God had been forming was becoming evident. This little being was a complete stranger — but completely ours — and we would do anything for this person we didn't even know very well yet.


After three days of seeing him, reality hit: We had to go back home and leave him there. But that's how the process works. When we got back to America, the wait was excruciating. The agency told us we might have to wait another three months before we got to bring Isaiah home, but God provided again. We returned after only a little more than a month to make him a part of our family forever.
We know it's cliché, but it is so true: God doesn't call the equipped, He equips the called.
As we had waited from the time of the referral to the first trip to Ethiopia, we got to spend that time loving on our daughter and telling her about her brother. Because of God's timing once again, our daughter knew who her big brother was before we ever got him home. Once he was home, it was like they had always been brother and sister, and we truly believe that without the time in wait the transition for us would have been much more difficult than it was.


Being called to adopt was one of the scariest things we have ever committed to. If we had waited until we were ready to adopt, we would still be waiting. We know it's cliché, but it is so true: God doesn't call the equipped, He equips the called. We're a one-income family living on a teacher's salary, and God tells us that we're going to proceed with something that will cost in the neighborhood of $40,000. We're going to bring a son into our house who doesn't speak our language and love him and raise him like he is our own. That doesn't make sense from our perspective, but God always comes through.


A friend of ours would always remind us: When you're in the darkness, don't doubt what God has promised in the light. Adoption is a world that seems daunting and unreachable, and that's exactly how the enemy wants it. But God's timing is perfect, and we still can't get our minds around how He makes it all work out.


— Blaise and Ashley King, Pinelake Reservoir