When I was 27 years old, I started having sharp pain in my back and numbness in my foot. They discovered a cluster of blood vessels in my spine that was cutting blood flow to my legs. At that age, I did not worry about it, but it continued to progress. I was told it was only going to get worse, and it did. Ten years ago, I began walking with a limp, which led to me walking with a cane. For the last three years, I have been in a wheelchair full-time.
When the doctors told me I would never walk again, I received it. I was raised with the idea that you listen to your doctors because they were right. But God has changed me to see with eyes of faith, and to know that He is not limited.
While attending College of Prayer in August, my son reached over and apologized for never having prayed for my healing. Right then, he began to pray out loud. Then others asked if they could pray for me. I had never thought about my healing. I believed God could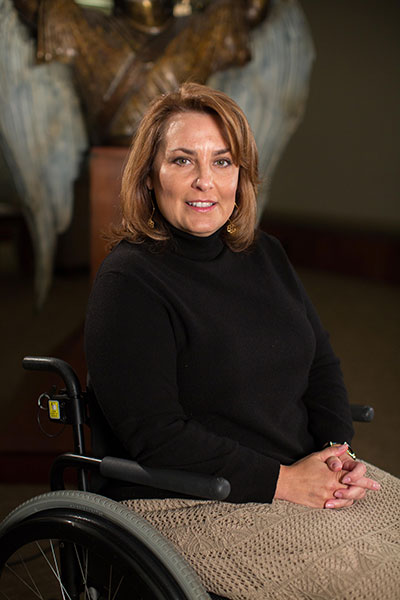 heal but not that He would. I had accepted that this was my thorn and was fine with it.
Shortly after College of Prayer, my ladies small group started fasting and praying for my healing, and I was seeing God work. I was doing physical therapy and seeing a change in my legs — they were turning pink instead of being purple. Our small group asked the elders to pray with us. During this time, I asked God what he expected of me — He said nothing but faith. At the end of this prayer time, I was able to stand with assistance from the Elders. Since then, I have begun taking steps.
God changed me to see with eyes of faith and to see that He is not limited."
Over these years, my faith has gone through the fire. I went from being healthy to looking at life in a wheelchair. In the midst of it all, I lost my husband to cancer in three short months. He was my helper, my best friend and my rock. I was a widow looking at life in a wheelchair while raising a child alone. But I wouldn't change it. I know God is using my life as a representation for hope. Nothing is impossible with God, and I want people to see that.
— Rhonda Daniels, Pinelake Reservoir