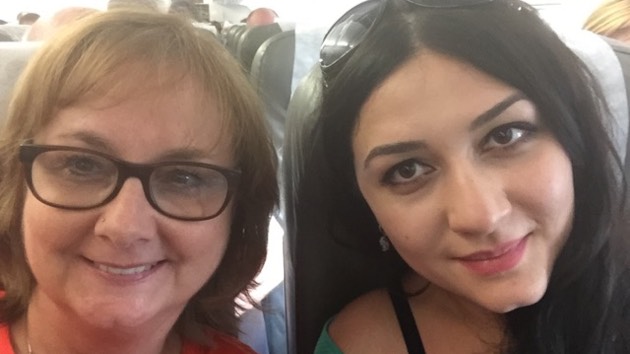 It's very easy to beat yourself up when you share the Gospel and people reject Christ, especially in a place where we're not allowed to share publicly. But over the last 18 years that I've been a missionary, God has taught me to keep on loving, keep on finding ways to share.
God prepared my heart for missions during my time at Pinelake from 1992–1998. During the very first mission trip I took from there, God began to give me a deep love for other people groups. He revealed to me that I could actually live in a different culture and share His grace. Before that, I had never really understood that He uses ordinary people for extraordinary things. But being there changed my perspective and gave me a deep passion for praying.
When I left for Kiev, Ukraine, my first place of service, the adjustment period was definitely a strange time. The excitement lasted about six months before the loneliness of being single and away from my family and church set in. God helped me by opening doors of friendship with nationals and other missionaries who became like family to me. Certainly, struggling with the language was difficult, and God gave me grace and patience. I slowly developed relationships with street sellers and in shops where you had to ask for everything. In those days (early 1998), everything was behind lock and key and standing in line for bread was a daily event. As you can imagine, I had to learn to speak the language.
From there, I moved to Odessa, Ukraine, for over six years and then to Russia, where I've spent time in Novosibirsk (Siberia), Perm and now Moscow for the last year. Living and working in this capital city with a population of 18 million people is both hectic and amazing.
Being there changed my perspective and gave me a deep passion for praying.
My focus is reaching university students and young adults by building relationships, mentoring and sharing the Gospel, which ultimately leads to planting home churches. Since we are not allowed to share Jesus publicly, our team uses the "third place model" to bring people out of confrontational locations into comfortable ones. We meet in coffee shops, food courts, English clubs and English/Russian Bible studies so that we can invest in their lives.
Years ago, God gave me a deep passion for students and the Russian people, and I love having daily opportunities to meet new people everywhere I go! For example, I recently sat on a plane beside a student from Armenia. When I shared Christ with her, she started crying and told me it was great to meet another Christ-follower! Ann now attends our weekly English group!
There's also Vikka, a university student who accepted Christ just recently. I met Vikka five years ago in Perm when we first shared the Good News with her. I praise God He allowed me to see the fruit of Vikka becoming a believer.
Because of how God comes through like this time and time again, I would not change a minute of my life on the mission field. God has transformed me spiritually and grown me through all the difficulties and struggles. Accepting Jesus as my Lord and moving to the mission field has given me life! My prayer is that God will continue to shine His light through me because I want the people in Russia to see the everlasting hope He has for them.
To my Pinelake family, I just want to thank you for your faithfulness to pray for and encourage me.
— Janet Holloway, Pinelake Missionary (Moscow, Russia)