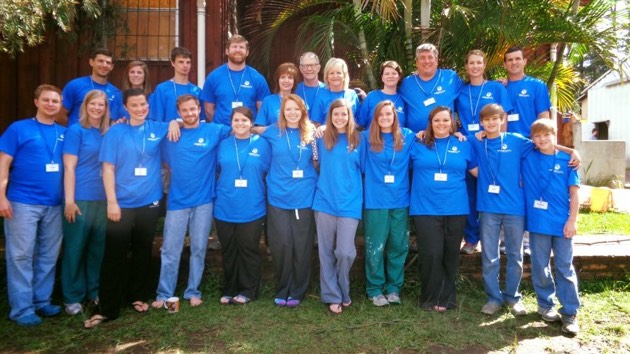 Recently, I traveled to San Matias, Honduras, with an amazing team from Pinelake Madison, and love was our banner from the very beginning. Months before we left for Honduras, our team decided to pray that this mission trip would center around love — that we would be known by the love that we have for the Father and by the love we have for others.
That word has been central to what Jesus has been teaching me over the last year. One of my friends gave me her Giving Key necklace with love on it. Every day as I put it on, I prayed, "Jesus, show me what Your love looks like today. Teach me how to love like You." It has been incredible to see Him answer that prayer, and the key serves as a constant reminder of the love He wants me to demonstrate to others.
As I prayed and prepared to travel to Honduras, Jesus brought me to 1 Corinthians 13:3:
"And if I give all my possessions to feed the poor, and if I surrender my body to be burned, but do not have love, it profits me nothing."
This rocked my world. It isn't about what we do, or even how well we do it. If it's not done in love, it means nothing. If we don't love, we don't have anything. In Christ, though, we see what true love is all about.
Throughout our week in Honduras, I experienced that love in so many different settings. I saw the love of Jesus in the way that our team bonded so quickly and enjoyed working together. I heard the love of Jesus when we lifted up our praises in different languages. I witnessed the love of Jesus when an 86-year-old Honduran woman teared up as we prayed over her and her family. I felt the love of Jesus when a little girl fell asleep on my shoulder after a long, fun-filled day at the waterpark.
I could overhear the love of Jesus in the laughter of the children as we danced, blew bubbles and made paper flowers. I saw the love of Jesus in their beautiful smiles. Even in the cold raindrops that hit our faces after a long day of work, the love of Jesus was there.
When I was in Honduras, Jesus taught me so much about love, and not just "love" as the world defines it, but HIS Love
He's real and present all the time. We just have to open our eyes and ask Him to help us grow closer to Him. When you do, you truly experience His raw, radical, unchanging love.
Being a college student, it is so easy to get caught up in everything that the world has to offer. When I was in Honduras, Jesus taught me so much about love, and not just "love" as the world defines it, but HIS Love. As He began to work in me, I was able to experience His love in ways that I never had before. Loving Jesus and loving people is the most important thing in life, hands down. The Lord used the Honduran people to change my perspective.
— Elizabeth Williams, Pinelake Oxford