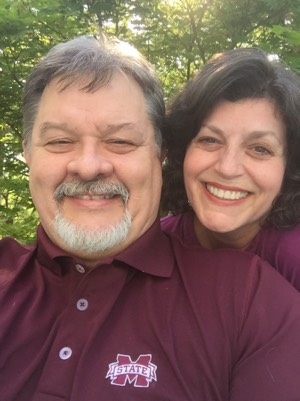 Like many young married couples, Toby and I only occasionally "popped up" at church during the first few years we were married. Later, realizing we wanted a church life for our family, we began attending on a regular basis, even getting involved in our church's programs. Although our participation in church had more to do with us and less to do with God's desire for us to know Him, God used the church to change our hearts. After a time, I decided to follow Jesus. My pastor walked me through the decision and I knew I had not been following Jesus, even though I thought I'd been saved since childhood.
Once my heart was fully His, I believed God wanted two commitments from me. The first was for Toby and me to tithe. At that time in our lives, we weren't sure how we would pay our monthly bills, so it was a huge step of faith for us to tithe. But we made the commitment. Now, the outcome wasn't that we received big pay raises, or that a long-lost relative died and left us money; the miracle was that we gave God a tenth of our income. And we never missed it. No kidding. I couldn't believe it. It was then I realized that God didn't need or want our money. God wanted us to trust Him.
It was then I realized that God didn't need or want our money. God wanted us to trust Him.
I've always heard that where you spend your money is the thermostat of your life. It shows where your heart and your focus are. Committing our tithe and trusting that we would still be able to pay our bills allowed us the opportunity to see God work His blessings in our life. The biggest blessing was realizing we could trust God to be there for us when things were good and when things were difficult.
The second commitment took us a step further. Once we'd tithed for a while, God started providing opportunities for us to give. Giving beyond our tithe. It sounds like it would be hard, but actually it was an easier decision that tithing because we'd learned how to lean on God instead of ourselves. For Toby and me, tithing and giving help us realize that our security isn't in our paycheck or in our possessions. Our security is in Jesus, our Creator and Redeemer.
"From everyone who has been given much, much will be required; and to whom they entrusted much, of him they will ask all the more." Luke 12:48
This verse sounds like it describes the material things we may have. But I believe it describes God's expectations, that we are responsible to Him with everything—our money, time, families, friends, and opportunities He brings to us.
This has had a big impact on what we believe God wanted us to learn. As the Lord asked us to give for a specific period and a specific purpose, I believed He was calling us to give one of the assets that provided a great deal of security for us in our retirement. Security was the term we both used. Toby and I discussed the donation, and we believed God wanted us to give. We came to that decision in different ways; however, we both knew this was not about what we were giving. God was telling us to give up something that we both had security in — and to trust Him. He wanted to remind us (again) that the place for our security is in Him and not bound up in ourselves.
God was telling us to give up something that we both had security in — and to trust Him.
As we've moved forward with this, we've already been blessed with the reinforcement of God's support for us as His children. Now our prayer is that this asset will be used in a way that glorifies Him. And with that will come the blessing of having a relationship with a loving heavenly Father Whom we can trust in any situation.
Over the years, we have seen God's faithfulness to us as we seek His direction and will. His blessings have been many and varied. Those blessings have many opportunities surrounding them and constantly reinforce that God blesses us because He loves us, and He is providing the tools needed to serve Him and further the Kingdom.
Toby and I have learned (and continue learning) several things about God's faithfulness and blessing. First, God blesses in many ways. We have been blessed financially, but for me the greatest blessings have been security and contentment. Now, you may say that income contributes to those things. But money can fuel discontentment if it and the things it buys becomes the focus.
We were not in financial trouble. In fact, we were in a good place. But I placed my security in my abilities, assets and properties. God does want us to prepare for the future, but He does not expect us to place our security in those preparations (Luke 12:16–20; Proverbs 27:1; James 4:14). I knew this, but was not living with the peace of this fact. I placed the security of my future and my retirement on what I was doing. None of my actions were wrong or bad, but my attitude did not allow for peace in this area. My confidence was placed in me — the wrong person.
What changed in us was our attitudes towards what we were doing. We quit counting days, quit constantly running retirement models, quit being anxious for our future.
Second, serving God and being involved is not age related. You are not too young to serve God, and as you age you don't retire from serving God. Your opportunities may evolve, but they will be in line with the skill set God is growing in you. Serving God is not serving self, but by serving God we are blessed. It sometimes can be a conundrum in an enigma (always wanted to use that phrase). But it is really no mystery. It is simple. God designed us for relationship with Him. When we are fully vested in that, we will love Him, which results in serving Him.
by Mike Burnett, Reservoir