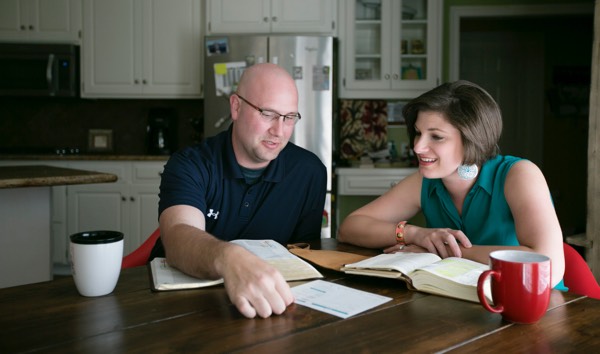 As long as I was busy, I didn't have to focus on me. I was working 50 hours a week, coming to church anytime the doors were open and our kids were in more activities than I could count. I began volunteering at the church, joined a military small group and was your typical "yes person." If you asked me to help, I'd always say, "Sure!"
Still, my life was a checklist. It was all about me trying to control and do everything that I thought was pleasing. In 2006, I got married to my high school sweetheart, Josh. He is the love of my life and — at the time — my rock. But when he was deployed to Afghanistan, God slowly began teaching me to depend on Him.
And that's when my world changed.
I was at church by myself when Amy Martin gave her testimony about her abortion. I immediately sunk in my chair and felt like every eye was on me. I wanted to run out of the room — but I couldn't. Everything she said resonated with me because her story was my story. In high school my boyfriend and I got pregnant. It was this gigantic secret that I had been carrying around for 14 years.
At the end of the testimony, Tim Smith got up and led the church in a time of prayer. I will never forget it. He said, "If Amy's story is your story, we would love to talk to you. You are not alone." And he encouraged us to come down. My feet felt like they weighed 800 pounds. But I walked to the front with tears running down my face and confessed to a complete stranger that I had an abortion and I needed help. I asked the Lord into my heart that day.
In that moment, I felt God comforting me. I had felt ashamed, dirty, a murderer, condemned and unworthy of God for years because of my sin. It didn't matter how many bucket lists of good deeds I had completed, nothing was good enough.
It didn't matter how many bucket lists of good deeds I had completed, nothing was good enough.
The church offered a Bible study called Forgiven and Set Free. In that group, I met wonderful lifelong friends who have gone through the same struggles. God changed my lens. I realized that God forgave me of my sins years ago when, as an 11-year-old, I asked for forgiveness. But I never forgave myself. Satan had used this secret to torture me from the inside.
In August 2012, I was baptized at Reservoir Identify. My life changed forever. After being gone for two years, Josh came back from deployment in October 2012 to a new person. My husband was no longer my rock — God was. The Lord called me to begin sharing my journey with other women. But first I told my family the past I'd been hiding, and I refused to let Satan keep my story a secret. In 2012, we joined a married couples small group to help us grow in our relationship.
Through our small group, the Lord led me to change jobs. In 2013, I started working for His Kingdom and surrounded myself with Christ-followers daily. I began volunteering at the Center for Pregnancy Choices, helping other women with unplanned pregnancies and providing post-abortive healing. In 2014, my husband and I started leading our own small group, and we took our family on a mission trip to Matamoras, Mexico, and we're leading a trip to Canada in the upcoming months.
Satan wants to keep every dark thing in your past a secret, but shining light on how our Redeemer heals, loves and makes new is the most powerful thing you could do. The Lord saved me and made me new. I am forever grateful and still in awe of His love for us.
— Stephanie Ulrich, Pinelake Reservoir