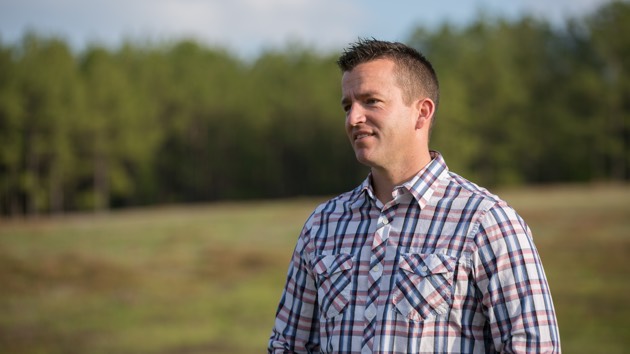 The Lord came to seek and to save what was lost — and He saved a sinner like me.
My family brought my sister and me up in church. Multiple family members were there, and it was the norm in our lives. When I was eight years old at vacation Bible school, I prayed to accept Christ into my heart. I knew I needed Him in my life.
I talked right, acted right, behaved right. I was the model, don't-give-your-parents-grief kid. I was the kid who didn't do all the things the other kids did. I chose not to get involved because of my upbringing and because I knew God wouldn't want me to. But I had a childlike view of Him that was more about what's "okay" and what isn't.
This all changed for me in when I went to college and joined the the U.S. Air Force. When you throw together college, military and the unsupervised time of a young man, he starts to get a little taste of the world. And I liked what I tasted. This "hidden world" seemed to be awesome to me. What to my wondering eyes should appear but illicit relationships, booze, foul talk, filth, pornography and all types of bad choices.
Once this filth entered my life, I had to hide it. After all, I had an image to uphold. I'd been in church all my life, and people knew my family image. So, as I played church and sang for the youth and praise team, I continued to be fueled by the enemy. I lived one life during the week and another on Sunday.
I lived one life during the week and another on Sunday.
Eventually, I decided to stop living a lie, but instead of giving up the bad, I gave up the good. I didn't want to be a hypocrite; so, I just decided to keep my garbage lifestyle and do away with the godly life and the way I was raised. But I was afraid. I'd been on seven or eight missions trips to Mexico, and I knew God had special plans for my life. Pushing that away, I stopped going to church and told God, "No, thanks," and threw myself into the party life.
During this time, I met my wife, Lindsey, and we got married and started a family. I was now heavy into alcohol, and when my dad got cancer, the drinks flowed. Six months later, my dad — my best friend — died. I was completely broken, but there was nothing I could do. I spent his last days on the earth chasing things that I should not have been chasing: women who were not my wife and other things that really couldn't fill the void I felt.
Broken and a mess, I continued drinking. I was an alcoholic — a drunk, mean man with a wife and two girls who depended on me.
I ran off all the people who cared about me. My dad was gone, and he would have been so disappointed in my life choices. My marriage had reached the breaking point. I had hurt my wife and lost her trust, but she stayed with me. I tried to do better, but the alcohol had me. Broken and bruised by my own choices, I was too foolish to turn to God and give my life to Him.
Broken and bruised by my own choices, I was too foolish to turn to God and give my life to Him.
Around this time, my best friend, John Myers, asked me to go with him to a men's encounter. I didn't really want to go, but I knew something had to give. So, I told him I would go.
At the event, God showed up! His Holy Spirit met me there like something I had never known. I prayed to give my life over to Him, to drop it all at the foot of the cross. I gave Him my life and everything that I am. And He took the life I'd known and threw it out. Even though I thought I knew God's power, I had no idea.
So many people in my family had been praying for me, and I didn't realize it. My mamaw, my mom, my wife, my friends — they'd all been praying for God to wake me up. He did just that. He took away my addiction to alcohol, my profanity, my desire for porn, my bitterness, my self-loathing. No kidding. He just took it all away.
Lindsey and I joined a small group and love it. From there, we were both baptized at Pinelake on a Wednesday night. It's something we'll never forget. In April 2014, I went with a small group of others from Pinelake on a mission trip to Iraq (Kurdistan) where we helped Syrian and other refugees and did projects with "world orphans." It totally rocked my world. Not long after, my wife, my two daughters and I went with a group to Nashville on a mission trip to help with refugees.
In June 2014, after 14 years and three months, I felt that I should follow God's call on my life to leave the military for missions. I went to the children's orphanage in Matamoros, Mexico, to work on their facilities. I later took my wife and daughters back there with a group.
They'd all been praying for God to wake me up.
After being out of the military for a year, I felt as if the Lord was telling me that He was not done with me there yet — like I was supposed to return. So, I re-enlisted and was chosen to be the First Sergeant for the 172nd Airlift Wing Medical Group. I believe it's the position where God has placed me to be able to reach others, love my troops, feed them truth from God's Word and use my life lessons to help point others to Jesus.
I'm not perfect, but I am saved! Thank God for Jesus! I am so thankful for His grace. My family is whole; we are in church, praying together, worshiping together. It's just awesome!
— Joshua Shearer, Pinelake Reservoir