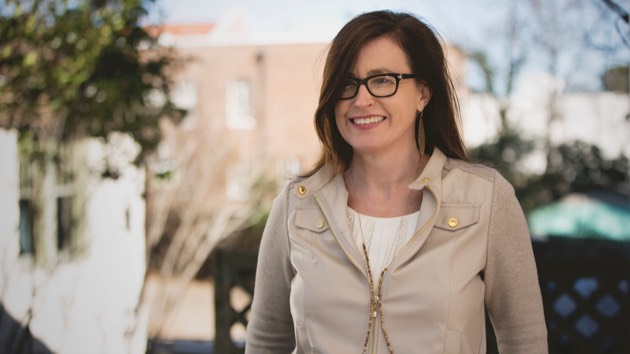 My son was born in 1994, and I decided to take him to church. I wanted him to feel secure there, to feel like he belonged. That alone was my motive. What I found instead changed my life forever.
I thought God wanted my attendance because it was a rule I should follow. What God desired was my attention and my heart. He wanted me to know Him. He wanted me to know how much He loved me. He never stopped pursuing me, even in the midst of all of my bad decisions.
A new friend at church began to invite me to lunch and spend time with me. She asked me to come to her Friday morning Bible study, and despite my fears, I accepted. I wanted desperately to know the Bible, but I feared that my lack of knowledge and security would be exposed. The week before that study the enemy worked me over: "They are going to call on you. They are going to ask you turn to a passage, and you do not know where it is. They are going to ask you to pray out loud, and you will sound so stupid." At that point, though, I had no idea who the enemy was and that he was speaking to me.
Despite my fears, I went, and what I found was a group of women who loved me. They taught me. They encouraged me. They prayed for me. They made me feel like I belonged. Not only was I a part, but my input was important. For the first time in my life I felt secure in church, and over the next several years, I worked on that foundation. It was the starting point, and God and I have been working on my house ever since.
Despite my fears, I went, and what I found was a group of women who loved me.
In June 2009, Jody Schmelzer called me and said the Lord had been laying me on his heart to teach a small group of women that were recently divorced or considering divorce. I said, "Jody that does not make sense. I have been married for seventeen years and never gone through that." He said, "I know. I agree, but I really want you to pray about it." I hung up the phone and called Jody right back. "Jody, I'm sure God wants me to do this. I don't understand it, but I don't have to. God is calling me to this."
The reason became apparent in August 2009 when my then-husband asked for a divorce. I can honestly say I never saw it coming. But I determined one thing from the beginning: No person and no circumstance could take my joy or my peace. I struggled, but I survived and grew because I stand on the faithfulness of a good and loving God. Over the next few years in that small group, several marriages were restored and made beautiful.
And God proved faithful to me as well. In 2012, I married Allen, who is a good man who loves me, my children and the Lord most of all. We are co-leading an adult group and continuing to grow in our relationship with one another and our Lord.
During that time, I began asking the Lord what His purpose was for me. As I prayed, I began working in underserved areas with children. I started mentoring programs and worked with some amazing people who mentored me. Everywhere I went I learned.
That's when God hit me with something very unexpected.
That's when God hit me with something very unexpected. One morning in my prayer time He told me He called me to combat sex trafficking. My first instinct wasn't to embrace the call. "Say what, Lord? That sounds dangerous. Pimps and gangs? I really do not think I am cut out for this."
But God proved the calling. He began opening door after door and flooding people into my life to help me. I attended trainings, and I volunteered through Shared Hope International to train on domestic minor sex trafficking. From there, I began speaking to youth groups, women's groups and churches.
A friend from that initial Bible study years before saw what I was doing on Facebook and asked me to attend a meeting at the Mississippi Office of Homeland Security (MOHS) for people interested in fighting human trafficking in Mississippi. I attended the meeting, and she introduced me to the director. I told him I was available if he ever needed me.
Several months later, I sensed that the Lord had a new job for me. I found an ad for a position with an international nonprofit. This must be it, I thought. When I went to Atlanta for my sixth and final interview, I loved this group of ladies, and the interview was going great. But they told me that I likely wouldn't have time to continue my work to end sex trafficking.
My husband Allen and I prayed about it, and we knew this was not it. I had to say no to a job that would have more than doubled my salary and been a financial blessing to our family. But God knew exactly what He was doing because it was right around then that I got a phone call from the director of MOHS. I had not seen or heard from him since that meeting several months before. When I asked how he was doing he responded, "That depends on your answer to my question." He had a job for me.
I have been working with MOHS ever since as a special projects officer for human trafficking. I administrated the governor's task force and chaired the Awareness Committee because my passion is for our state's response to exploited children. Sexual abuse greatly increases the vulnerability of the child to predators. Runaways and children in the foster care system are at high risk. However, all children are vulnerable.
Why am I so passionate? I have heard from the victims. I have heard their stories. And every time it is absolutely the most tragic set of circumstances you could imagine.
There is hope, and there is healing. There is a beautiful life awaiting these victims.
There is hope, and there is healing. There is a beautiful life awaiting these victims. I am called to look for them, love them and — until my last breath — fight for them when they are not fighting for themselves yet. I passionately pursue them because that's just what Christ has done for me.
— Ashlee Lucas, Pinelake Madison